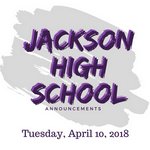 Tuesday, April 10, 2018
Good Tuesday Morning
April 10, 2018

Seniors make sure if you receive a scholarship that you bring a copy to the office.

Seniors once you have your acceptance letter to the college you plan to attend, please turn in a copy to Ms. Stabler or Mrs. Corley.

Seniors make sure you check the counselor's office for scholarships. We will announce any new ones that become available.

Application for the Roseanne Harris Scholarship is in Ms. Stabler's office. 2.5 GPA and financial need required. Deadline is April 27th.

We have a limited number of Yearbooks to sell. It will be First Come, First Serve. They are $35.00. You can see Mrs. Tarleton or a yearbook staff member.

We have room for 4 more ½ page ads in the yearbook. Spaces will be sold on a 1st paid basis. See Mrs. Tarleton for ad forms.

Juniors interest in Pine City Ambassador needs to pick up an application in the office. The deadline for turning them in to the chamber is tomorrow April 11th.

Progress Reports will go out this Thursday, April 12th.